Mini-Review: Seven Deadly Zins (Book #2: A Wine Country Mystery Series) by Nancy J. Parra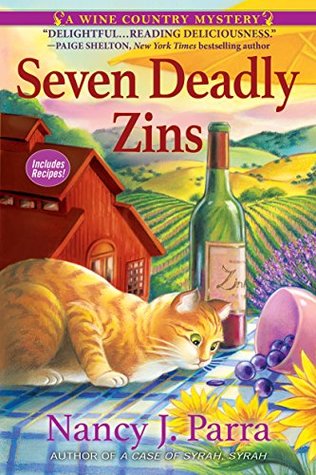 Taylor O'Brian, founder of "Off the Beaten Path", takes small groups on wine country tours of romantic Sonoma County. Friends are everything in the tour business, so Taylor is happy to guide investors to the winery owned by her friend Tim Slade. But vintage turns to vinegar when an FDA inspector is found floating face down in one of Tim's vats of squished grapes.
Tim is arrested on suspicion of murder, and Taylor and her friends rally to prove his innocence. But it's not an easy task, especially since the winery proprietor's acidic sense of humor tends to reap a harvest of sour grapes. Taylor's investigation is withering on the vine until she discovers that Tim's girlfriend, Mandy, is having an affair with a self-help guru. But before she has a chance to confront Mandy, Taylor finds Tim standing over the body of the dead guru.
This tart turn of events sends a bottle shock through Sonoma. Might Taylor's friend really be a Zin-ful killer? If so, could Taylor be the next victim? The tour guide and her friends come to realize that the true murderer's scent is obscured by an unsavory bouquet of red herrings.
Source: NetGalley and Crooked Lane Books          Rating: 2½/5 stars
The Bottom Line: Round two of A Wine Country Mystery series is once again set in idyllic Sonoma wine country and once again, that idyllic setting is marred by a murder and Taylor O'Brian is right in the thick of the investigation.  Though she isn't accused this time, Taylor's good friend and fellow winery owner, Tim Slade is, and Taylor just can't let her friend go to prison for a murder she is certain he didn't commit.  As with the first book, Taylor spends the bulk of the read poking her nose into things best left to the police and getting herself (and her friends!) into a load of trouble.  As with the first book, I liked the setting and some of the characters, but that's where the good ends for me.  Taylor still doesn't feel like a very solid, well-developed character and this time around I found the plot to be rather convoluted.  While I had no difficulty following the plot, I found its complications to be unnecessary and fussy which caused to me to enjoy the overall read less.  At the end of it all, I don't think an idyllic setting and lovely wine descriptions are going to be enough to keep me coming back to this series.  With the amount of cozy mysteries out there, I really need these series to deliver on multiple levels and this series, sadly just isn't delivering.