Review: Smitten by the Brit (Book #2: Sometimes in Love Series) by Melonie Johnson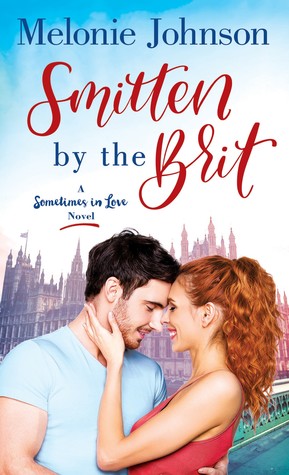 English professor Bonnie Blythe expects her life to play out like her favorite novels, especially now that her long-term boyfriend has finally proposed. So when a shocking discovery leads Bonnie to end her engagement, she decides to close the book on love. But the plot thickens when a brand-new character enters the scene—and quickens Bonnie's heart. 
With his brilliant blue eyes, sexy accent, and irresistible charm, Theo Wharton is like a romantic hero straight out of a Jane Austen novel. When fate places Bonnie in England for a summer—conveniently close to Theo—she realizes a hot friends-with-benefits fling is exactly what she needs to start a fresh chapter. Just as Bonnie begins to believe she's falling in love, an eye-opening revelation into Theo's life makes Bonnie feel like she's wandered into one of her favorite books. Will Bonnie have the courage to risk her heart and turn the page with the dashing Brit to find her true happy ending after all?
Source: NetGalley and St. Martin's Paperbacks          Rating: 4½/5 stars
Bonnie Blythe has known since she was a child exactly her life will play out.  She will continuously indulge her love of literature and she will marry the man she has been in love with since elementary school.  With the exception of no set wedding date, everything is right on schedule for Bonnie and going exactly according to plan.  Well, until she walks in on her fiancé with another woman; that sort of derails the old life plan. 
Though Bonnie is sad about the end of her engagement, she isn't quite as broken up as she expected to be.  What's more, she finds herself thinking more and more about a most intriguing man she met while in the midst of helping her best friend, Cassie Crow find her happily ever after with her hot Scot, Logan Reid.  Logan's partner in crime, Theo Wharton is a curious man with fine manners, a brilliant education, a love of literature, and a proper British title.  He is every girl's dream but Bonnie's interest in Theo troubles her.
Theo Wharton has spent his life knowing certain things to be true: 1) the men in his family have failed his family, 2) he will not, under any circumstances follow in the footsteps of the men in his family and, 3) in order to save his family's legacy and lands, Theo must marry a wealthy woman, even if love isn't a part of the equation.  Until he met Bonnie Blythe, Theo was certain he could fulfill his familial promises with little to no difficulty.  Bonnie Blythe is most certainly a difficulty and now that she is single and available, Theo has every intention of pursuing her even if it means finding a new way to save his family.
As Fate would have it, Bonnie finds herself in England for the summer teaching a course near and dear to her heart, Shakespeare.   As Fate would also have it, Bonnie is in close proximity to Theo which presents her with wonderful and sexy possibilities for her time in England.  While there, Bonnie and Theo become quite friends and also begin to understand one another a bit better.  Theo understands Bonnie's true intentions and desires for her life, while Bonnie begins to understand how conflicted Theo is regarding his family and duty toward them.  As one might expect, the understanding brings clarity and clarity, as it so often does leads to decisions.  Decisions don't always bring happy endings and for Bonnie and Theo an HEA may not be possible.
The Bottom Line:  With the exception of one thing, I enjoyed this second installment of the Sometimes in Love series even more than the first.  The only thing I wanted a bit more of was some serious fire power out of Bonnie when she caught her fiancé with the other woman.  Outside of that single issue, I got great pleasure out of this book and, like its predecessor completed it in a single sitting.  Even more than Cassie and Logan, I liked Bonnie and Theo immensely and their story was quite wonderful.  Between their general attitudes and tendencies and the constant literary references, I, like Bonnie was quite smitten and more than ready for book three.
Pre-order now for the May 28, 2019 release: Amazon | B&N | Kobo | Paperback