Review: Dracul by Dacre Stoker and J.D. Barker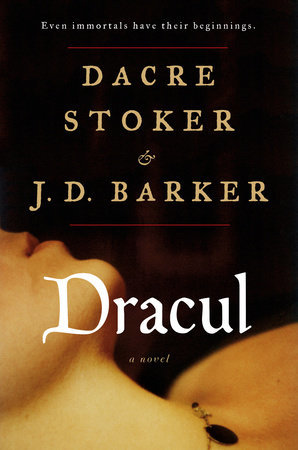 It is 1868, and a twenty-one-year-old Bram Stoker waits in a desolate tower to face an indescribable evil. Armed only with crucifixes, holy water, and a rifle, he prays to survive a single night, the longest of his life. Desperate to record what he has witnessed, Bram scribbles down the events that led him here…
A sickly child, Bram spent his early days bedridden in his parents' Dublin home, tended to by his caretaker, a young woman named Ellen Crone. When a string of strange deaths occur in a nearby town, Bram and his sister Matilda detect a pattern of bizarre behavior by Ellen — a mystery that deepens chillingly until Ellen vanishes suddenly from their lives. Years later, Matilda returns from studying in Paris to tell Bram the news that she has seen Ellen — and that the nightmare they've thought long ended is only beginning.
Source: NetGalley and Audible          My Rating: 5/5 stars
I never thought there would be a vampire book, from any genre, that would come close to replacing my all-time favorite vampire book, The Historian by Elizabeth Kostova.  I am damn glad to know I can still be surprised!
On the surface, Dracul was intriguing; from the cover to the synopsis, I knew it would be something I would, at the very least, like.  At second glance, I was a bit concerned with the overall length of this book.  I've been an avid reader long enough to know, I get intimidated by the really big books and at 500+ pages I worried about DNFing Dracul without really giving it a chance.  And so, I scurried off to Audible. 
From the first word to the very last, I soaked up this book like a paper towel soaks up a spill.  With a full cast of narrators, this dark, unnerving, and completely enthralling story had me mesmerized.  While I want to say I was most intrigued by the men of this book, Bram and Dracul, I found I was most drawn to Ellen Crone and Matilda and through those women, I saw and heard the story in a very different light.  Both women are strong, courageous, and intelligent creatures who have been thrown into situations not of their making.  For Ellen, the story is long and winding with so much tragedy, heartache, and misery as to be nearly unbelievable, yet she has persevered.  Matilda has had something of a privileged life, but has always been somewhat sidelined because of her gender, the time period, and her devotion to her brother, Bram.  Matilda is headstrong and determined and very much drives much of the action in this book.
As to the men, I found Bram's brother, Thornley to be among the most interesting.  Though he doesn't have much of a role to play in the first part of the book, once Matilda enlists his help and his wife has been attacked, Thornley is all in.  Like Ellen Crone, Thornley is punished for his love and only becomes involved in the madness to hunt down a nightmare when his wife's life is at stake.  Though Thornley loves his brother and sister, he loves his dear wife even more and seeks only to avenge her condition.  What's more, Thornley introduces the group to Vambéry, a most mysterious and wickedly intelligent man, who aides the hunting party in their endeavors.  Though Vambéry is committed to helping the group, his loyalties and beliefs are clearly divided which adds a whole other level of tension to a story already fraught with tension.
The Bottom Line: I will be forever grateful I listened to this book and didn't attempt to physically read it.  Because of the length and intricacy of the story, I fear I may have given up on what turned out to be a truly phenomenal read.  Every narrator brought something special to the story and though there are many voices involved, all were quite clear, and I never found myself wondering, "Who's speaking now?"  In fact, I found the voices and perspectives to be quite discernable, quite clear, and absolutely true to the personality of the character.  This is a fascinating and complex story from start to finish and I feel certain, this first read through, or listen through as the case may be, won't be my last.
Goodreads | Amazon | B&N | Kobo | Paperback | Audible