Review: Single White Vampire (Book #3: Argeneau Series) by Lynsay Sands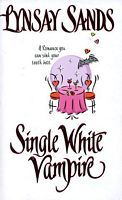 SWM – "Lucern." Successful biographer of family, books recently categorized as "paranormal romance." Something of a recluse. Hates crowds, aggressive women. Doesn't like sunbathing, garlicky dinners or religious symbols. Likes old-fashioned values; spicy Mexican dishes; warm, nice-smelling neck; and plump red lips. Stronger than ten men and can vanish in the blink of an eye. Currently unaware he's seeking a woman to share eternity.
SWF – "Kate C. Leever." Newest editor of Romance at Roundhouse Publishing. Perky, fun. Has recently discovered a legacy author just dying to be broken out. In fact, her career could take off from it. (The tall, dark, handsome writer just needs to be taken to several romance conventions and introduced to his fans…and stopped from acting so strange in public.) Dislikes "difficult, rude, obnoxious, pig-headed writers." Currently unaware she's met the man of her wildest dreams.
OH, DEAR.
Source: Purchase (Print and Audible)          My Rating: 3½/5 stars
Lucern Argeneau has become somewhat disillusioned with life.  After more than four centuries of living, all the things he once loved and enjoyed have become old hat, not worth the time or effort.  In fact, the only thing that currently brings Lucern Argeneau any pleasure is the research he does for the books he writes.  Though he didn't intend his latest books to be so, they have been labeled paranormal fiction and now there is someone by the name of Kate C. Leever from his publishing house who just won't stop contacting him. 
As an editor at Roundhouse Publishing, Kate C. Leever is serious about her work and willing to go to great lengths to keep her authors happy.  Which is precisely how she has found herself on Lucern Anrgeneau's front porch.  When Kate inherited Lucern from his previous editor, she was warned of his surliness, his apparent inability to answer phone calls/letters/emails, and total unwillingness to engage with, well, anyone!  Unfortunately, for Lucern anyway, Kate C. Leever isn't so easily put off and she is bound and determined to see him become even more successful!  With that in mind, Kate has made her way to Canada and isn't going to leave until she has a commitment from Lucern regarding at least one promotional event. 
Lucern has every intention of getting Kate C. Leever in and out of his home in short order.  He has no interest in what she's offering, no interest in further promoting his already successful books, and no interest in her as a mere mortal.  Thanks to a series of unfortunate events and his nosy mother, Lucern can't get Kate C. Leever out of his home, and before he knows it has agreed to a romance book convention.  And he thought having her in his home was a bad idea . . . .
The romance book conference is just one bit of crazy after another, and it doesn't take Lucern long to realize Kate C. Leever is dropping a ton of her other responsibilities to insure his happiness.  With that knowledge, Lucern does his best to participate in the conference events and make Kate's job just a bit easier.  What Lucern (and Kate) both find is that Lucern is actually quite good at the whole engaging with people thing, and people tend to like him!  He's funny, intelligent, charming, and a damn fine writer.  What Kate also finds out is that Lucern is a vampire, and that comes with its own set of rules and complications.  All of which immediately accepts and deals with.  In the face of that knowledge, Lucern begins to consider Kate C. Leever as something more than a mere mortal. 
The Bottom Line: I really want to assign more than 3.5 stars to this read, but when I look at it objectively, really objectively, I just can't get past my dislike of Kate C. Leever.  Kate is a lot of everything to take and she becomes somewhat overwhelming in a not so good way.  On the flip side of my dislike for Kate is my adoration of Lucern.  I love that crusty, old vampire so much!  His surliness and reclusiveness are as much a part of his personality as it is a product of his advanced age.  In this way, Kate C. Leever, in all her overwhelmingly perky glory is perfect for Lucern!  As always, I liked the twists and turns the plot took to get to the HEA and the inclusion of the extended Argeneau family.  Overall, I'm still loving my re-read/listen of this series and can't wait to keep moving forward!
Goodreads | Amazon | B&N | Kobo | Audible